Check out www.mysubaru.com for all of our latest coupons, and be sure to download the MySubaru app to access our coupons and specials from your phone.
When Should You Schedule a Wheel Alignment for Your Subaru?
Your car's wheels play a crucial role in moving your vehicle and helping you get to your destination, so it's important to make sure your wheels are properly aligned. Regular wheel alignments improve your vehicle's handling and help your tires last longer, so we highly recommend staying on top of your car's routine maintenance needs and scheduling service to make sure that your wheels are always pointing in the right direction.
So, how do you know when it's time to schedule a wheel alignment for your Subaru? Here's an overview of what to watch out for so that you can keep up with your vehicle's service needs:
How to Tell When Your Subaru Needs a Wheel Alignment
We recommend scheduling an alignment check at least twice a year and whenever you get new tires. Scheduling regular alignment checks will help you catch wheel alignment problems before they start to cause damage or handling issues.
Keeping up with wheel alignment checks is the best way to stay ahead of alignment issues, but here are a few other things to watch out for that could indicate that your car needs wheel alignment service:
If you notice excessive tire wear or unusual wear patterns, your wheels might be out of alignment.
 If your steering wheel is crooked when you try to drive straight, we recommend scheduling wheel alignment service.
 Wheel alignment problems can cause your vehicle to pull to the left or right.
Unusual tire noise can indicate misaligned wheels.
If you notice any of these symptoms, your wheels likely need some attention to get them back on track. Schedule a wheel alignment at our Subaru service center to get your wheels pointed the right way again so that you can enjoy a smoother ride and avoid excessive tire wear.
If you have any questions, feel free to reach out!
Get More Out of Your Tires and Smooth Out Your Driving Experience with Regular Wheel Alignment Checks at Our Subaru Service Center
Ensuring proper wheel alignment is crucial for your vehicle because it helps to smooth out your ride and improve the lifespan of your tires. There are a variety of things that can knock your wheels out of alignment over time ranging from normal daily driving to hitting curbs, so it's important to schedule regular alignment checks and keep an eye out for wheel alignment warning signs. Fortunately, if your car does need a wheel alignment to get its wheel pointing in the right direction, we can help!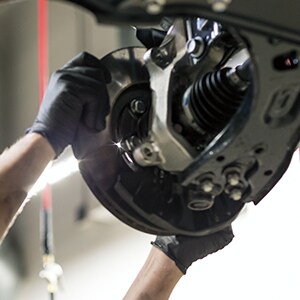 What are the benefits of driving a well-aligned vehicle?
Treating your vehicle to regular wheel alignments has a variety of noticeable perks. Perhaps the greatest benefit of keeping your car's wheels properly aligned is longer-lasting tires. Misaligned wheels can cause several issues, but excessive tire wear is among the costlier problems. If your wheels are out of alignment, it can shave thousands of miles off the lifespan of your tires.
Luckily, wonky wheel alignment is a preventable and fixable problem. All you need to do is schedule regular alignment checks at our Subaru service center and let our team of professional Subaru technicians work their magic. With plenty of wheel alignment expertise and cutting-edge tools that we use to restore your vehicle to precise factory specifications, we can help you keep your car's wheels on track.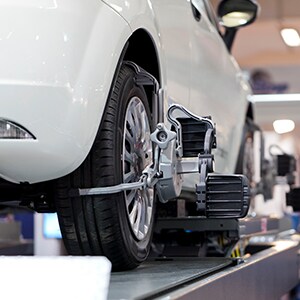 Schedule professional wheel alignment service at Ewing Subaru of Plano 
If you want to keep your car's wheels pointed in the right direction and have the utmost confidence in every round of wheel alignment service, then we invite you to come to Ewing Subaru of Plano whenever your car is due for service.
Is your Subaru due for wheel alignment service? Schedule an appointment today! Our team will be happy to help with all your wheel alignment needs!
Hours
Monday

8:30 - 8:00PM

Tuesday

8:30 - 8:00PM

Wednesday

8:30 - 8:00PM

Thursday

8:30 - 8:00PM

Friday

8:30 - 8:00PM

Saturday

9:00am – 8:00pm

Sunday

Closed