2023 Subaru Solterra

It feels like just yesterday that Subaru shook up the SUV market with the unveiling of the three-row Ascent, and already, Subaru is on the cusp of doing it once again. This time, the new vehicle is called the Solterra, and it is completely electric.
That's right… no gas is necessary with the Solterra, and it's the first SUV of its kind from Subaru. It's a vehicle we are really excited to show you here at Ewing Subaru in Plano, and if you're in the market for a new SUV, it should absolutely be at the top of your list of vehicles to test drive.
---
Explore Our New Subaru Vehicles
---
Solterra Performance Specs and Range
Even though the Solterra is electrically powered, that doesn't mean it lacks power compared to a vehicle equipped with a gasoline engine. In fact, the Solterra has two electric motors… one in the front and one in the rear. With these two motors combined, you'll be able to drive with 215 horsepower and 249 lb-ft of torque at your disposal.

Most importantly with these electric vehicles, however, is driving range. We know many people are skeptical of electric cars due to this very aspect, but we can put your mind at ease when it comes to the Solterra. Equipped with AWD, the 2023 Solterra manages a driving range of up to 228 miles. That's enough to get you from here in Plano to Austin with charge to spare.
Should you take the Solterra out for a longer drive, however, you can still feel at ease thanks to the SUV's fast charging capabilities. Charging up doesn't have to be an overnight thing. With level 2 AC and DC fast charging, the Solterra can charge its battery up to 80% in an hour.
High-Tech Amenities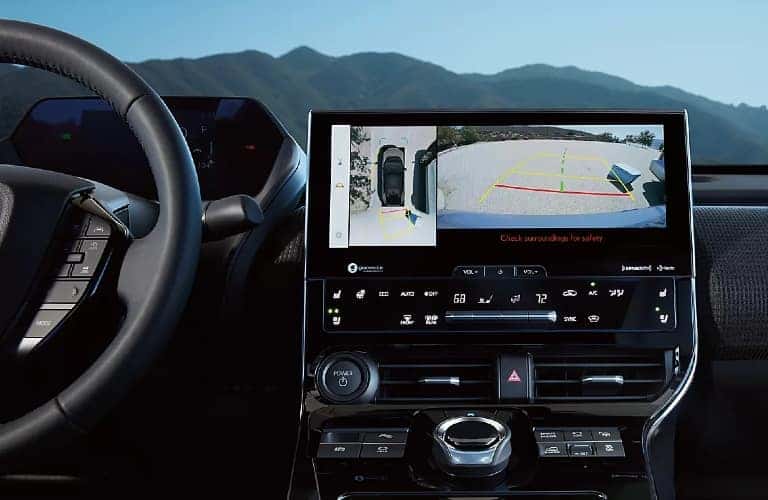 The Solterra comes with the latest and greatest technology inside the vehicle as well. Debuting for the first time with the Solterra is a 12.3-inch high-resolution touch screen. This is the largest such screen Subaru has ever released, equipped with Android Auto and Apple CarPlay, while pairing perfectly with the vehicle's wireless smartphone charging station.
Also new for the Subaru lineup is the Solterra's Intelligent Assist system, allowing you to use voice command to perform such functions as adjust climate control settings, use navigation and access the integrated streaming operation. All of this tech perfectly accompanies some of the more premium-level luxuries inside the Solterra, like a panoramic moonroof and heated steering wheel.
Starting at an MSRP of $44,995, we could talk all day about the 2023 Subaru Solterra, but we're guessing you'd rather just drive it. We think that's a great idea, and our team at Ewing Subaru would like to help you do just that. Get in touch with us so that we can look into the Solterra's availability for a test drive here in Plano.